Job Description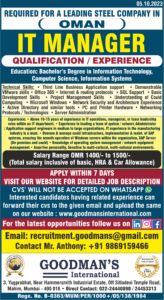 ​

IT MANAGER 
​

​

 QUALIFICATION / EXPERIENCE
• Education: Bachelor's Degree in Information Technology, Computer Science,Information Systems, or a related field, or equivalent experience 
• Experience in leading a team of system / network Administrator / Application support engineers in medium to large organizations. IT experience in the manufacturing industry is a must. 
• Oversee & manage could infrastructure, implementation & maint. of SAP systems, ensuring the smooth operation of Windows servers within the organization, SAP Server (On premises and could) 
• Knowledge of operating system management / network equipment management 
• Assertive personality, Sensitive to multi-cultural, multi-national environments. 
• Above 15 years of experience in IT operations, managerial, or team leadership roles within an IT department. 
• Third Line Business Application support  
• Demonstrable VMware skills 
• Internet & routing protocols  
• Basic Development Skills  
• Project Management Skills  
• Understanding of Could Computing  
• Network Security and Architecture Experience  
• Active Directory and similar tools 
• PC and Printer Hardware 
• Networking Protocols / Technologies  
​

Reports To: CFO & SAP HEAD 
• Analyze business requirements by partnering with key stakeholders across th organization to develop solutions for IT needs. 
• Running regular checks on network and data security 
• Identifying and acting on opportunities to improve and update software an systems 
• Developing and implementing IT policy and best practice guides for the organization 
• Designing training programs and workshops for staff 
• Conducting regular system audits 
• Running and sharing regular operation system reports with senior staff 
​

• Overseeing and determining time frames for major IT projects including system updates, upgrades, migrations and outages 
• Managing and reporting on the allocation of IT budget 
• Providing direction for IT team members 
• Identifying opportunities for team training and skills advancement 
• Provide management and guidance for IT support of desk-bases computer hardware and software, diagnosing and solving issues and escalating to 3rd Line where appropriate for internal / external users. 
• Provide 2nd line of application support across all business systems, diagnosing and solving basic application issues and routing / escalating where appropriate. 
• Work with and develop 2nd line support staff in regard to Network analyst, assisting with network, Vmware, MS Exchange, date communication links and other infrastructure services as required. 
• Log and track all incidents and request on the Helpdesk system, providing regular updates to the customer and 
• Ensuring SLA's are met and ensure that support staff is adequately doing the same 
• User admin including Active Directory admin, password resets, network drive mapping any other tasks as required. 
• Work with staff to ensure SLAs are met and a consistent IT service is delivered to the customer. 
• Maintain a knowledge base of reoccurring issues & their associated fixes whilst investigating root causes. 
• Carry out daily operational tasks, user administration, housekeeping tasks and system monitoring to ensure the effective operation of IT systems and facilities. 
• Carry out IT installations, implementations, configuration & roll outs & other technical duties as required Produce & maintain technical and procedural documentation as required. 
• Assist in the IT department with duties of which you will be capable, as and when required.
• Be a second line of contact at the corporate office for all IT issues and maintain all assets and oversee the first line of contact.
• Advise the IT Head of any planned IT changes and assist in providing ideas back to the IT Director of improvements that can be made within the corporate office both through IT Process and new technology. 
• Develop and implement policies and procedures to support IT software and systems. • Develop and train IT staff within the company. 
• Review of Job descriptions and KPI for the team members annually to ensure that they align with the corporate goals.
• Provide regular updates to senior management on IT projects, initiatives & performance metrics.
• This job description is indicative only and does not represent an exhaustive list of responsibilities. The firm reserves the right to alter or change the responsibilities at any time, in line with the firm's strategy and business needs.
• The IT Manager shall have the authority to operate the IT department on a day-to-day basis in accordance with the policies, resolutions, directives, enactments, ordinances, and other decisions of the CEO / CFO & Board.